New Clients
It would be our pleasure to see your pet!
Please fill out and print the new client/patient information form and be sure to bring it with you to the clinic. Additional pet and/or vaccine history should also be brought for the initial appointment.

Click here to complete and print new client/patient information form.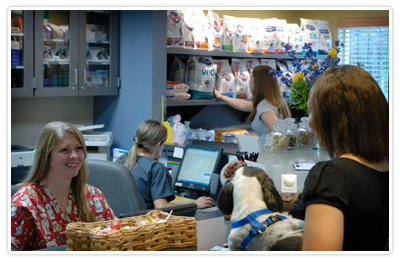 ---
Hospital Policies
To maintain the standard of care we strive for at CVH, it is our policy that:
All animals staying in the clinic for bathing must be current on vaccines.
For the safety of your pet, all dogs must be on leashes. Cats must be in carriers upon entering the facility.
Payments must be made the day of service.
A 50% deposit on surgical procedures and hospitalizations must be paid the day of admittance.
Payment options include Cash, Check, Visa/Mastercard, American Express & Discover.
Appointments cancelled within 24hrs of scheduled time are subject to $25 cancellation fee.
---
Rates
At CVH we offer exceptional services at fair and competitive rates. Listed below are some of our more common services and associated fees.
Cats
Inside cat annual exam $100.95
(includes rabies and distemper vaccines)
Cat neuter $88.00
Outside cat annual exam $128.20
(includes rabies, distemper & felv vaccines)
Cat spay $165.00
Cat dental $207.95
Dogs
Dog annual exam $183.15
(includes rabies, distemper combo, bordatella vaccines; heartworm and fecal test)
Dog neuter < 30lbs $165.00
Dog dental <25lbs $212.95
31-50lbs $195.00
26-50lbs $237.95
51-90lbs $245.00
51-70lbs $272.95
91 & up $275.00

71lbs & up $292.95
Dog spay <30lbs $190.00
31-50lbs $270.00
51-75lbs $330.00
76-90lbs $399.00
91 & up $420.00

---

Note: Dentals include complimentary flouride treatment. Extractions / oral surgery, if necessary, would be an additional cost.
We require all animals being put under general anesthesia have pre op blood work to ensure they are safe to undergo the procedure.
No charge surgical consultations are performed prior to surgery being scheduled. A written estimate will be provided for your pet at that time.
Prices shown for cat and dog annuals include standard vaccine protocols and for dogs includes a fecal parasite and blood parasite check.
Dental prices shown do not include extractions or oral surgery.
Spay prices do not include charges for animals in heat or pregnant.